About 4 Seasons Homes and Land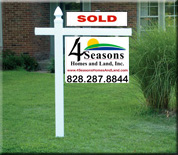 4 Seasons Homes and Land, Inc. was founded by Kathy in March 2011 and merged with another local firm owned by David in October of 2011. 4 Seasons Homes and Land, Inc. may be the newest real estate company in Rutherford County, but we are among the County's most experienced and knowledgeable REALTORS.
Having been licensed since 1978 (Kathy) and 1984 (David) bringing a wealth of experience, knowledge, and varied backgrounds in real estate that will benefit our clients. It is our goal to create a premier real estate firm that will provide the finest service to Sellers and Buyers to help them in making their real estate experience the smoothest possible in today's challenging environment.
No one can promise a "magic" formula that will make the current market conditions disappear. What we are promising is that you will receive superior service and support backed by 2 full-time professional and experienced REALTORS. You will receive 2 for the price of 1 and will be treated with respect & fairness. Our desire is to be your partner in success.
If you place your trust and confidence in us, you deserve nothing short of the finest real estate services available. You deserve a firm built upon strong moral and ethical principles that has your best interests in mind. We believe and will make sure that 4 Seasons Homes and Land, Inc. will be that firm!

"Promises Made, Promises Kept"
David & Marcus
Contact Us Now by Clicking Here