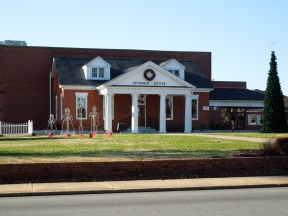 Click Here to Search
All Spindale Homes
For Sale
Located between Rutherfordton and Forest City, Spindale was incorporated in 1923 and has a population of approximately 4,022 people. Spindale's heritage is rooted in North Carolina's proud textile industry and it was once a thriving mill town that produced clothing, upholstery, and other textile goods. Due to changes in the global economy and outsourcing, Spindale's story is an all too sad and familiar one playing out in many small towns throughout the United States, industry and its jobs have gone overseas leaving an uncertain future. However, Spindale has been adapting and remaking itself in order to prosper and grow in today's new economic reality. In the past several years Main Street has been revitalized into a friendly and inviting place to visit.
Main Street features a diverse selection of specialty shops, long-established businesses, restaurants and service professionals. From old mainstays like Spindale Drug Store and Vassey & Hemphill Jewelers to newer restaurants like Barley's Taproom & Pizzeria and Mud Bones New and old meet to create a unique atmosphere and experience. The Spindale Drug Store has been serving Spindale for over 80 years and is locally owned and operated by pharmacists with over 48 years of combined experience in retail, hospital, and long-term care practice. As a member of PCCA, Spindale Drug offers customers a more personalized approach to receiving their medication, and strengthens the customer-physician-pharmacist relationship. Spindale Drug also has Home Health Care division that specializes in meeting patients Durable Medical Equipment needs, as well as assisting and training the patient. The old-fashioned Soda Foundation at Spindale Drug has been updated to include an Internet café and coffee bar. Vassey & Hemphill Jewelers was established in 1946. Realtive newcomers Barley's Taproom & Pizzeria and Mudbones are both restaurants that provide live weekend entertainment. Barley's Taproom features unique beers, many from local micro-breweries. Mudbones also serves breakfast. There is also a music store, B Sharp Music.
Main Street Spindale is home to the international headquarters of the American Dairy Goat Association and hosts the two-day Goat Festival and Parade each May. Main Street also hosts the Fourth of July festival, the Spindale Fall Festival, and the spring and fall Foothills Antique and Artisan Shows.
At the heart of Main Street is the 19th Century Spindale House that is part of the Town of Spindale Parks and Recreation Department. The Spindale House is attractive and inviting with its large front lawn, trees, gazebo, and playground for the kids. This community center features a gymnasium, weight room, game room, meeting hall with kitchen, several smaller meeting rooms, and two tennis courts behind.
The Charles B. Deviney Park, also part of Spindale Parks and Recreation, features a Junior Olympic size swimming pool, large and small picnic shelters, playground, and four tennis courts.
Spindale is home to the Rutherford County Farmer's Market from May through November, featuring all types of fresh, locally grown produce. The Rutherford County Library, the Rutherford County Senior Center, along with several county buildings are located in Spindale. Lakeside Mills, a working flour mill, represents the town's legacy as a North Carolina mill town.
What Spindale is best known for is being home to the beautiful campus of Isothermal Community College, also known as ICC. ICC is a comprehensive, two-year public institution community named after its location in the thermal belt. It was founded in 1964 and is a member of the North Carolina Community College System. The college is also home to the public broadcast station WNCW, as well as The Foundation Performing Arts and Conference Center which offers a very broad range of music and theatre on its annual roster.ICC offers several programs, such as Huskins courses in which high school students from the three local high schools can take and attend college courses, and the REaCH school (Rutherford Early College High), an alternative high school that combines a college education with high school courses. ICC offers individual courses and certificate, diploma, and degree programs that enable students to transfer to four-year institutions or to acquire skills for new or continued employment. In addition, the College provides training for area business and industry, personal enrichment courses, remedial and developmental courses and community service activities. ICC's mission is to "improve life through learning" and has become a valuable part of Spindale and the entire County.
Copyright David Brown 2011